Engineering Solutions
Customized software developed through UB TCIE is helping Katz Americas fulfill coaster orders with ease, enabling double-digit percentage sales increases every year since the
the technology debuted. University at Buffalo engineers designed a program to combine multiple orders and shapes, making operations more efficient for the largest manufacturer of beverage coasters in North and South America.

Improving Renewable Energy Operations
This spring, the University at Buffalo celebrated the dedication of the UB Solar Strand on the North Campus, an installation of 3,200 solar panels. Funded by the New York Power Authority, the 750-kilowatt strand will power hundreds of UB student apartments. It is one of the largest ground-mounted photovoltaic arrays in New York State, and will serve as a classroom for both UB students and the K-12 population.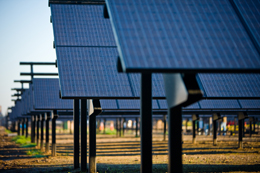 Behind the installation was Amherst's Solar Liberty, whose operations are being improved with the help of UB TCIE so that it can better serve its customers. » Read how
| | |
| --- | --- |
| Improving the Patient Experience: Leaders at Niagara Falls Memorial Medical Center recognized there was room to better meet the healthcare needs of the Greater Niagara community, especially when considering new federal health care policies that are taking effect. Certified training in continuous improvement is advancing the ability to heal patients. » More | Maximizing Food Service: The Charter School for Applied Technologies in Kenmore – New York State's largest charter school – wanted to enhance K-12 food service and expand the capabilities of subsidiary EST LLC, which supports operations of other charter schools. A food service efficiency and capacity analysis pinpointed operational shortcomings. » More |