The Center for Industrial Effectiveness | University at Buffalo | Winter 2018
Sharing our knowledge with Stony Brook
TCIE has been an educational provider of Lean and Six Sigma methodologies for nearly 15 years, training professionals from various industries in the Buffalo-Niagara region and beyond. Now, a new partnership with a similar business-minded center at Stony Brook University is making it easier for the eastern side of the state to access UB's continuous improvement classes. | Read More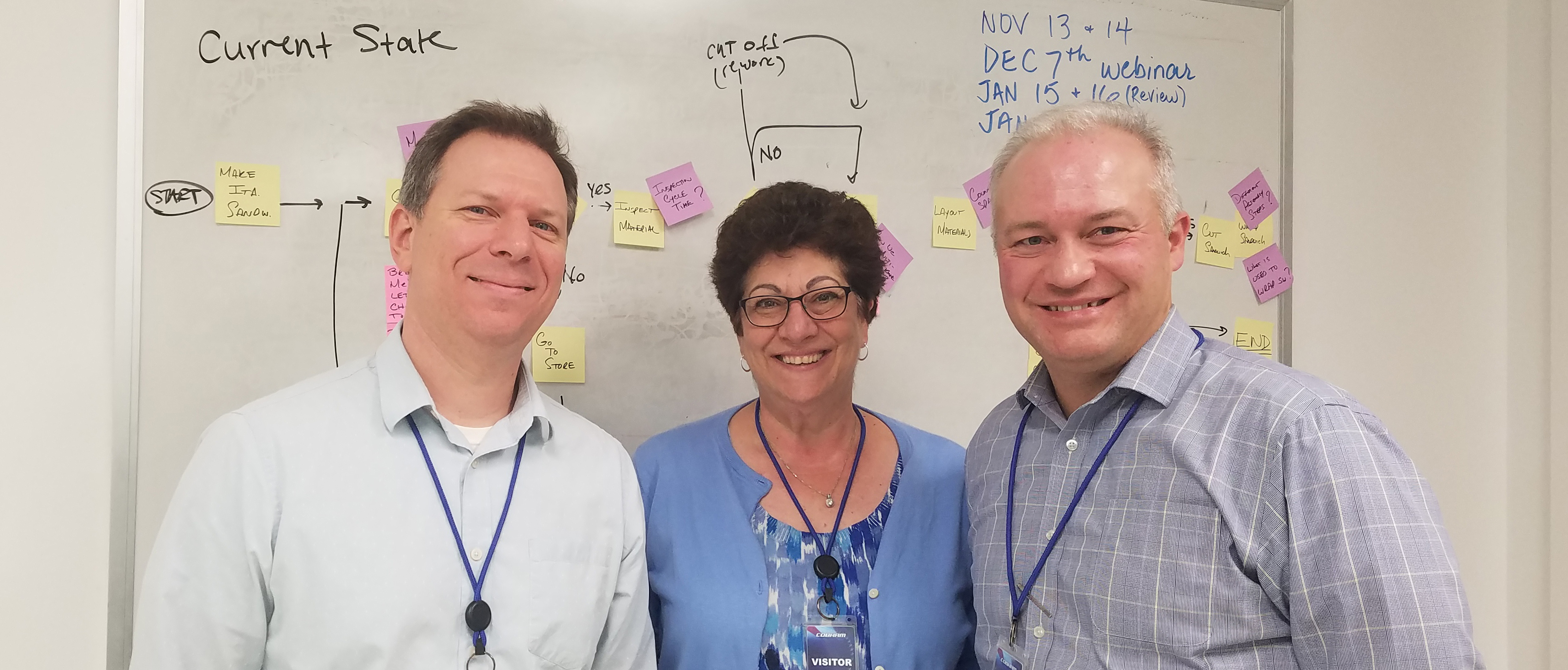 From left, TCIE's Operational Excellence Director Peter Baumgartner with continuous improvement instructors from Stony Brook University, Teresa Goodfellow and Certified Six Sigma Black Belt Robert Kalbach.
Carving the path to civilian life
Massachusetts native Omar Infante is winding down his 17 years of service with the U.S. military. He is beginning a new career in manufacturing. But with no industry experience, he needed a primer. Through UB's online Digital Manufacturing and Design Technology specialization courses, Infante is gaining deep insight into the digital age of manufacturing – what is happening today and how factories will operate in the future. | Read more

Want to be part of manufacturing's Industry 4.0 conversation? Like/follow our Facebook page!
Enabling record-setting feats
Only one company in North America makes persulfates, and that's PeroxyChem of Tonawanda, N.Y. When production for the popular sodium persulfate variety began to lag behind demand, a Six Sigma Black Belt project helped the company address inefficiencies to shatter production records and capitalize on increased market needs. | Read more

Amazon: boosting the manufacturing talent pipeline
| | |
| --- | --- |
| Did you know that TCIE provides the same production training offered to Amazon employees? This fall, Amazon graduated its first class of 37 students from the Certified Production Technician (CPT) program. They are part of the Amazon Career Choice Program at the distribution center near Trenton, N.J. Amazon and manufacturers across the nation are using the CPT – a national program of the Manufacturing Skill Standards Council (MSSC) – to instill core skills and knowledge. | More about CPT | Leo Reddy, chief executive officer of MSSC, presents at the Amazon distribution center near Trenton, N.J. |
How can DMAIC work for you?
If the term DMAIC intimidates you – or arouses no thoughts or feelings at all, for that matter – let us convince you why it's not scary and why you should want to know more. The five-letter acronym has the power to make your job less stressful. We explain this Six Sigma tenet in simple terms and illustrate how it can help solve problems. | Read more

IoT technology in the classroom
| | |
| --- | --- |
| In the not-too-distant future, parking could be a lot easier, recycling could be more efficient, and finding community space at the library and other buildings would be painless. How? The internet of things (IoT). A class taught by a UB assistant professor of electrical engineering is bringing hands-on IoT learning to students. | Read more | A member of the internet of things class shows a sensor attached to a "smart" recycling tote. Photo: Cory Nealon |